About the Author, Priscilla Cummings
Most people think I'm from Maryland because I've written so many stories about CHADWICK THE CRAB and even set some of my novels, such as RED KAYAK, near the Chesapeake Bay. But actually, I grew up the middle of three children on a dairy farm in western Massachusetts, far from the water. I loved living on a farm where I was surrounded by animals and always in touch with nature. And lucky me, I had a palomino horse named Goldenboy that I galloped up and down the pastures after school. We had another horse, too, an appaloosa named Lollipop, who shared the pasture with Goldenboy and our herd of black and white Holsteins. Besides the farm animals, I had several other pets including cats, white rabbits, a hamster and several goldfish.
As a young girl, I had other passions besides a love for animals. I enjoyed mountain climbing with my father, especially in the White Mountains of New Hampshire. And I looked forward all year to our annual family trip to Misquamicut Beach in Rhode Island, where, for a couple precious days, we camped out in one of my dad's old Army tents and swam in the ocean. I had a lot of freedom growing up. It was a different kind of world then, and I had many memorable adventures with my friends and siblings. But what I loved above all else was reading books and writing my own stories. With my best friend, Marcia, I toted home many books from the Granby Public Library. Often, it was a Nancy Drew mystery or a book that featured a horse. I had very few books of my own, but my most treasured one, CHARLOTTE'S WEB by E.B. White, remains on my bookshelf today.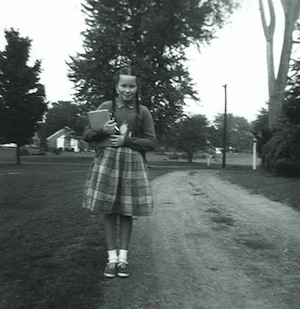 As for writing, I began with stories about our farm animals. Often, I illustrated the tales and made them into little books. I still remember taking one of these books in to my first grade teacher who put stickers on the cover. Sometimes I wrote at my father's big mahogany desk. And sometimes, I took thick pads of paper out to the hayloft. I kept a diary, too, wrote to my grandmothers and, in third grade, joined a pen pal club through the Archie comic books. At one time, I had more than twenty pen pals all over the world. When I was ten, I spent the summer writing my first chapter book (about a horse, of course) and in high school I tried my hand at reporting for the school newspaper.
Because of financial hardships facing many small farmers, my father gave up his dream of being a farmer and became a chemistry and physics teacher instead. I looked up to my dad; I had always thought I would follow in his footsteps and become a teacher, too, but in college I changed my mind because I enjoyed writing so much. After graduating from the University of New Hampshire with a degree in English literature, I became a newspaper reporter. Over the next ten years I worked for four different newspapers in four different states. In 1981, I was honored as UPI's Journalist of the Year for Virginia after researching and writing a series of articles on women in prison.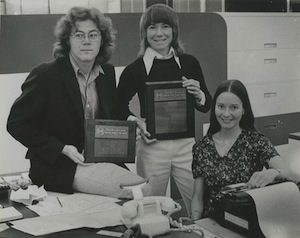 That same year, I moved to Maryland where I became a magazine writer and editor for three years. I met and married another writer, John Frece, who was then a reporter for the Baltimore Sun. It was in Maryland that I saw my first blue crab. I couldn't believe people actually steamed and ate blue crabs! I began reading about those interesting critters and when I learned that in winter, crabs burrow into the mud at the bottom of the Bay to sleep until spring, I began to wonder: what if there was a crab who didn't want to sleep all winter? What if there was a crab who had Big Dreams? Who wanted to be a star at the aquarium in Baltimore so he wouldn't have to sleep all winter? It was just a silly idea, but that's how it all started. My first book,
CHADWICK THE CRAB
, was published in 1986, the same year my son, William, was born. My daughter, Hannah, arrived three years later.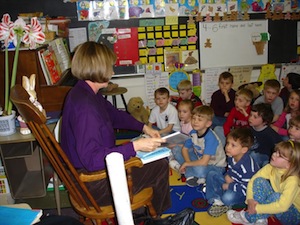 Over the years, I wrote several more picture books about animals in the Chesapeake Bay. Baron von Heron, Toulouse the Canada Goose, Hector Spector Jellyfish, Orville the Oyster and Bernie the Sea Gull are just a few of the characters that are near and dear to my heart. But I had other stories to tell and I dreamed of writing novels, too. In 1997, my first novel for older children, AUTUMN JOURNEY, was published. Since then, I have written seven others:
A FACE FIRST
,
SAVING GRACE
,
RED KAYAK
,
WHAT MR. MATTERO DID
,
BLINDSIDED
,
THE JOURNEY BACK
and
CHEATING FOR THE CHICKEN MAN
. Most of these stories were inspired by something in real life that moved me emotionally. When I talk with students about writing, I often explain how many of the skills I learned as a reporter helped me transform the spark of an idea into an entire book.
Today, my home is in Annapolis, Maryland with my family. We have a small sailboat and a green canoe, but no red kayaks. We have two cats named Mr. Charles Bingley (Mr. B. for short) and Romeo. When I'm not writing or visiting schools I enjoy reading, playing the piano and taking long walks. I think a lot on my walks and, often, I daydream about my days growing up on the farm.
- Priscilla Cummings